About Our Online Flower Delivery Services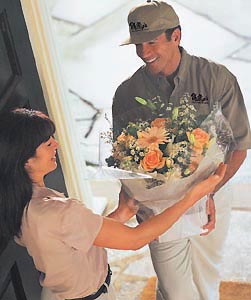 About Our Online Flower Delivery
As one of the leading florists in the U.S., Phillip's delivers elegant roses, fresh flower bouquets, blooming and green plants, and fruit and goodies baskets throughout the U.S. and Canada via its computerized sending system and network of more than 20,000 professional affiliate florists. A complete menu of popular items is available online for birthdays, anniversaries, get well wishes, new babies, holidays, expressions of sympathy, and almost every other occasion. Each florist-delivered gift is professionally designed and locally delivered, to ensure the highest level of quality and service. A personal enclosure card message is included at no extra charge, and satisfaction is always guaranteed.
Same-Day Florist Delivery in U.S. and Canada
In the U.S. and Canada, same-day florist delivery is generally available Monday through Saturday on orders received before 11:00 am in the recipient's time zone (excluding holidays and peak floral delivery periods.) Otherwise, next-day delivery is the norm.
Peak Floral Delivery Periods
IMPORTANT
-- At peak floral delivery periods, such as Christmas, Valentine's, and Mother's Day weeks, please order at least one or two days in advance if possible.
Sundays and Legal Holidays
Florist delivery is NOT available in most areas on Sundays or legal holidays. So, while every effort will be made to accommodate such deliveries when possible, items requested for delivery on a Sunday or legal holiday may be delivered the day before or day after the date requested, if necessary.
Requests for A.M. or P.M. Delivery
On florist delivered orders received at least 24 hours in advance (excluding peak floral delivery periods), we will be happy to honor requests whenever possible for AM delivery, PM delivery, or delivery by a specific afternoon time (e.g., by 4:00 p.m.) For same-day orders placed by 11:00 am (recipient's time zone), you may also request delivery by 5:00 pm. Please note, however, that since we use professional local florists to individually design and deliver these gifts, the time of delivery is sometimes beyond our control and, therefore, cannot be guaranteed.
Phillip's delivers roses, wrapped bouquets, and living plant gifts throughout most of the world via an international network of affiliated professional florists. For deliveries outside the U.S. and Canada, simply select from our menu of
international gift items
. (Allow two to three days for delivery, excluding Sundays, legal holidays, and peak floral periods.)
Charge your online purchase with Visa, MasterCard, American Express, Discover, Diners Club, or your Phillip's charge account. Prices for each item are displayed online (in U.S. dollars.) Applicable
sales tax
and flowers by wire service and delivery charges are itemized in our Shopping Cart before you place your order.
Phillip's specializes in serving corporate customers with the finest in
flowers
plants, and fruit baskets for business gifts, sympathy expressions, employee programs, and nationwide promotions. Commercial volume discounts are available. Click here to
apply for a commercial account
,
view our catalog
, or
request additional information
, or for assistance. Our main phone number is 630-719-5200. Our toll-free phone number in the U.S. and Canada is 1-800-356-7257 (1-800-FLORALS.)
Special savings are available for multiple gift sending, regular corporate ordering, and nationwide charitable groups. For additional information,
click here
, or call today.
100% Satisfaction Guaranteed
If you are not completely satisfied with the quality of one of our products, please contact us proptly by email or phone, and we will cheerfully provide a replacement or make any other appropriate arrangements. (
Customer Comments
)
For your shopping convenience, a wide variety of popular items may be viewed online. Each of these beautiful gifts is individually created with the freshest flowers available, and most are offered in a variety of sizes and prices to meet differing budgets. Of course, while the items shown are all representative of overall style, color scheme, and value, specific flowers and containers may vary in some cases due to design interpretation and availability or to meet our quality standards.
You'll be happy to know that we respect our customers' privacy and, unlike some other companies, do
NOT
sell or share our customer information with other parties for any commercial purposes other than order fulfillment, providing our online services, maintaining and improving our web site, and confidential site activity and sales tracking. For additional information, see
Privacy and Security
.
Chicago Area Locations & Services
Phillip's enjoys an especially strong following in the Chicago area, where the company was
founded in 1923
. Today, six family-owned shops, a 30,000 sq. ft. design center, a commercial interior plantscaping and holiday decorating division, and an affiliated wholesale fresh flower company serve Chicago and over 150 suburbs with a complete range of professional floral services for weddings, parties, and corporate events. To learn more, see our
Chicago Area Locations & Services
.
For Additional Information
For additional information or assistance, click here to
send comments and questions
or give us a call. Our main phone number is 630-719-5200. Our toll-free phone number in the U.S. and Canada is 1-800-356-7257 (1-800-FLORALS.) Our mailing address is, Phillip's 1-800-FLORALS, 524 N. Cass Ave., Westmont, IL 60559, U.S.A., and you may contact us by
email
.