A Flower Shop for Today's Worldwide Community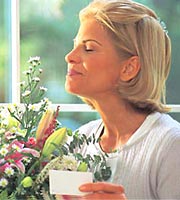 Our flower shops may have changed over the years, but not our hometown florist spirit. For example, back in the early 1920's when our family opened its first flower shop, we didn't just deliver flowers for our customers and provide nationwide flowers by wire. It was also common for us to recommend other local merchants, give directions, and quickly become real friends and neighbors in our community. The same is true today. But, through our online flowers shops, we live and work in a global community. Our customers, friends, and e-shop neighbors literally span the globe. So, we have the priviledge of delivering flowers worldwide and recommending other merchants and web sites worldwide, too. To us, it's just a natural part of being a great local flower shop in today's global village. We've listed some of our online friends, partners, and fellow e-merchants below, and we hope you'll remember us every time you want to send flowers.
With 1-800-FLORALS you can send flowers one of two ways, making shopping for flowers better than ever. First and foremost, you can choose to send flowers by traditional florist delivery. Our network of thousands of florists gives you the resources you need to arrange for florist delivery almost anywhere in the USA and Canada, with international flower delivery, too. Sending flowers in this way is a great way to send any and all sentiments, from birthday or new baby congratulations to funeral condolences or get well wishes. Alternatively, you can choose to send next-day flowers, which are shipped by overnight courier delivery straight from the source. These gifts provide a less expensive route for you to send seasonal bouquets all over the Continental United States, and like florist delivery they make great anniversary and holliday gifts.
Flowers Bring Smiles Across Miles
Life comes at us quickly. With today's busy schedules, we're constantly on the go, and friends or loved ones can be hundreds or even thousands of miles away. Thank goodness for cell phones, email, text messages, and Twitter. But, what about when they're just not enough? Flowers, plants, and fruit baskets are the fast, fresh, personal way to show how much you care with ease. You can order flowers online in minutes for delivery almost anywhere. And, flowers are appropriate for so many occasions. Whether you want to send a message of love, thanks, congratulations, or sympathy, flowers express what words alone can't say. Think flowers cost a bundle? You might be surprised. You can send thank you flowers, sympathy flowers, or thinking of you gifts for a lot less than you might think, and there are plenty of discount flowers for almost every taste and budget. You can even arrange to have monthly flowers delivered to someone automatically. So, send smiles across miles with the personal beauty, thoughtfulness, and meanings of flowers. Order FTD flowers and Teleflora flowers online for flowers by wire florist delivery across town or around the world. It's the personal way to warms hearts and stay in contact, regardless of what life throws at us.
---