Flowers, Shops, Gifts & Services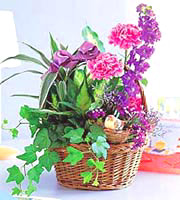 There's more to shopping than meets the eye -- especially online. It's about finding the right products, best deals, and most helpful information fast. The wealth of product news and merchant reviews on the Internet makes it easy -- empowering consumers to make better choices and save time, too.
Shopping online is also about having fun, because there's a whole world of great stores, bargains, services, and advice available through the Web. All it takes is a few clicks of your mouse. So, whether you're looking for flowers, music, fashion, news, or a new home, you can find it all on the Internet. In fact, no matter what the gadget, gauage, widget, or wedge you're looking for, it's probably right at your fingertips. And, you don't have to shop till you drop or waste time standing in long lines. Let the World Wide Web do the work for you, so you can enjoy the rewards. After all, that's what real shopping is all about.
What better way to do your online shopping for flower delivery than with the 1-800-FLORALS. With un-paralleled online ordering of flower arrangements, planters, and gift baskets, combined with additional resources such as free e-Cards, virtual flowers, and international flower delivery, we provide a personal touch for all your gift sending worldwide. Below, you will find several more helpful resources to help improve your online shopping experience.
Personalized Bridesmaid and Groomsmen Gifts
Site offers unique personalized and engraved gifts for your bridesmaids, groomsmen, best man and maid of honor. Every gift includes free engraving and Every Order includes Free Shipping.
Amazon.com
Online shopping for electronics, apparel, computers, books, DVDs and lot's of great gift ideas.
PriceGrabber.com
Find the best deals including tax and shipping at PriceGrabber.com. Designed to make comparison shopping fast, free and easy.
Shopping.com
Find, compare and buy in seconds. Find almost anything from clothing to computers and gifts to video games.
Endless Floral Resources
Learn more about flowers, floral gift-giving, and flower design at floral care and giving. You'll find the meanings of roses, the meanings of most flowers, and a helpful glossary of flowers, too. You can also learn about plants, such as Easter lilies and poinsettias. Research what flowers to choose for weddings in our wedding flowers glossary, or get expert advice on what sympathy flowers are most appropriate. Keep track of important floral holidays, find floral design schools, and learn about how to care for arrangements or how to care for roses. And, for those of you looking to arrange your own flowers, check out our easy steps to flower arranging.
---