Send Flowers and Shop Online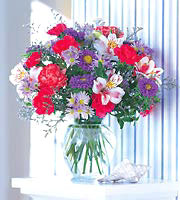 Order flowers online with our network of worldwide florists, send free virtual flowers by email, or visit the other great sites listed below. You'll find everything from unique gifts and international florists to jewelry, books, and more. Shop for electronics, computers, fashion, or sporting goods. Book airline flights and hotel reservations. Pick out wedding invitations. Or, just explore. We're adding new sites all the time. Because to us, flowers are just one beautiful part of life on the Internet, and we're the type of florist interested in giving you even more. So, here are some cool sites, along with friends and associates. Check them out. Then, turn to us whenever you want to send your best with beautiful fresh flowers delivered in the USA, Canada, or around the world. We look forward to serving you in any way that we can, and we hope you enjoy some of the fun sites below.
Shop for roses, fresh flowers, plants, or gift baskets with 1-800-FLORALS, the premiere online international florist. Our services include same-day and next-day flower delivery in the USA & Canada, as well as international flower delivery. Our network of thousands of florist shops across more than one hundred forty countries worldwide gives us additional resources to better serve your floral shopping needs.
Natural Aloe Vera Products
Buy aloe vera directly from the manufacturer. Natural herbal products with aloe vera for diet, health, wellness, alternative medicine, beauty and skin needs, from the aloe plant.
ebay.com
* Buy and sell electronics, cars, clothing, apparel, collectibles, sporting goods, cameras, and everything else on eBay, the world's online marketplace.
Overstock.com
Discover designer brands and home goods at the lowest prices.
Walmart
Find your favorite every day low prices at Walmart.com.
Walgreens
At the corner of happy and healthy.
Peapod.com
The online grocery and delivery service.
Old Navy
Styles and fashion! Shop men's, women's and kids clothing.
About 1-800-FLORALS Services
Learn all about our company, 1-800-FLORALS, America's award winning online florist. With over 85 years of experience in the floral business, we have accumulated an impressive track record of customer comments and are constantly upgrading our services. Send us your comments & inquiries. We'd love to hear from you! Need flowers? We offer the ability to order flowers online for delivery to almost anywhere in the USA and Canada plus international flower delivery to more than 140 countries worldwide and a custom flowers order form to accommodate quick, easy ordering of all the most popular floral gifts. We utilize our own Chicago area shops and services as well as florists all over the world, to ensure the best possible handling of your floral gifts with a florist's personal touch. We also offer the ability to send free virtual flowers and e-cards by email. So, download our free flowers catalog and tell your friends about us. We are happy and eager to help you express your sentiments with beautiful fresh flowers, plants and gift baskets for any occasion.
---