International Web Sites and Services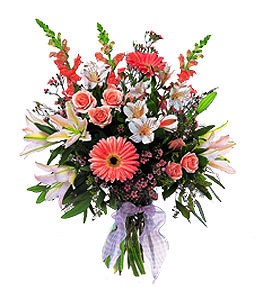 The Internet has opened up the world to all of us, providing unprecedented access to international news, information, travel, research, products, and public opinions. Every day, millions of people around the world connect to friends, loved ones, libraries, medical experts, schools, companies, and even governments worldwide with the click of a mouse. The world is indeed getting smaller, thanks to expanding information access and more rapid international communication. This page is dedicated to our shrinking planet and global community, with a variety of international sites, services, and resources we think you'll find helpful. We're adding more information regularly. So, sit back, relax, and expand your horizons. Browse our international directory listings below, or use the form at the bottom of this page to tell us about your overseas site.
Not only does 1-800-FLORALS specialize in fast, reliable flower delivery throughout the U.S.A. and Canada, we also provide resources to aid you in your shopping for all kinds of products and services, and we offer international flower delivery, too. Much like local delivery in the USA and Canada, we utilize a wide range international florists, to arrange delivery of your floral gifts. For additional information and services, see our flower shop resources and shopping help.
Additional Services
In addition to international service, 1-800-FLORALS offers same-day and next-day flower delivery throughout the United Stated and Canada. So, you can buy flowers online for delivery almost anywhere. We offer a wonderful selection of mixed fresh bouquets, long-stemmed roses, birthday flowers, new baby bouquets, blooming & green plants, sympathy flowers, and fruit baskets. You'll also find a variety of popular discount flowers to brighten anyone's day. Take advantage of our free services, including free virtual flowers and e-cards, our free flowers catalog, helpful lists of d important holidays and floral design schools, a free reminder service to ensure you never forget an important occasion, and lots of information on floral care and giving. So whether you are shopping for seasonal flowers, funeral flowers, or family funeral flowers tributes, or just looking for flower arranging tips, 1-800-FLORALS is your one-stop shop for everything floral online.
---