Alive with possibilities
Flowers give your home a little color or a bright new look
You don't need any experience or creative talent to get great looks with flowers. Look at some of the ideas here, and you'll be ready to get started on your own.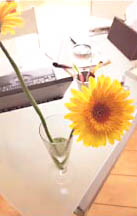 Decorate your office with cut flowers by simply filling a coffee mug with a few stems and using them as a paperweight or place several blossoms in matching vases for use as book ends.
A few stems of flowers in the bathroom make a fragrant addition. They bring a new concept to the idea of air freshener.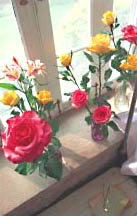 Curtains aren't the only way to dress up your windows. Create an unconventional window treatment with a row of cut flowers in simple glass vases.
Reprinted by permission from Floral Retailing magazine.