Fall in Love
Reflect fall's arrival outdoors with indoor floral bouquets
Creating striking arrangements in fall colors isn't complicated. The variety of flowers in autumnal hues makes it trouble-free.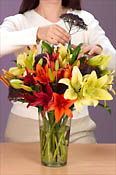 Fall Lillies
Concentrate on one type of flower, such as lilies, in a variety of fall colors to create a main bouquet. Accent with a complementary color, such as purple trachelium.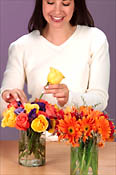 Fall Gerbs
For smaller arrangements that tie in with your main design, use various shades of gerbera daisies accented with purple limonium and spray roses accented with purple lisianthus.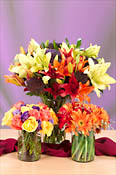 Care
To keep your arrangements fresh, recut the stems every two to three days. Wash the vases and refill with fresh water and flower food. Keep out of drafts and direct sunlight.
Reprinted by permission from Floral Retailing magazine.
---