Next Day Flowers
Shipped by Overnight Couries
Our next-day flowers and gifts are shipped direct by overnight courier for delivery Tuesday through Friday (excluding legal holidays and the day after) in the 48 Continental U.S. states. For next-day delivery, please order before 12:00 Noon Central Time. Note that direct-ship flowers arrive unarranged and are strongly discouraged for delivery to funeral homes or hospitals. See our florist designed and delivered selections for hospitals and funeral homes.
Special Requests
Normal courier delivery hours are 9:00 a.m. to 6:00 p.m. with priority given to business addresses. If your shipment is to a business, please request delivery by 5:00 pm. While the time of delivery is not guaranteed (especially during peak shipping periods), we are happy to honor such requests whenever possible.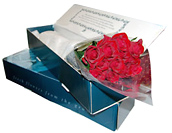 Secure Online Ordering
You'll find a wonderful selection of discount roses and direct-ship bouquets on our Next Day Flowers page. They're all bargain priced -- shipped fresh and direct. And, ordering online is safe and easy.
Additional Shipping Tips
Sending to an apartment? Please provide the complete address, including the apartment number, and try to ensure that someone will be available at the delivery location to sign for the package on the day of delivery. Any omissions or errors in the address may delay delivery, and deliveries to apartments will generally NOT be left at the door. Most courier services are unable to contact recipients prior to delivery. If no one is available to accept a package, the courier may redeliver the following business day.
Sending to a company? Please provide the complete address including company name and suite or floor number. To ensure a timely arrival, please check the shipping/receiving policies of the company prior to ordering, and verify that the recipient will be there on the day of delivery. Note that a specific delivery time can not be guaranteed by our overnight couriers. So, while business deliveries are given priority attention and most arrive well before 5:00 pm, there may be some cases when packages arrive later. Direct-ship flowers arrive unarranged. So, remember to include a vase, if possible, or consider our florist designed and delivered arrangements as another helpful option.
Sending to a hospital? To ensure a timely arrival, please verify the shipping and receiving policies of the hospital prior to ordering. (Direct-ship flowers are strongly discouraged for hospital deliveries, because some hospitals require one or more days to properly route direct-ship packages to patient rooms!) Please also make sure the recipient is not scheduled to be discharged on (or prior to) the day of delivery. Keep in mind that direct-ship flowers arrive unarranged. So, include a vase and arrange for someone to unpack the flowers for the patient, or consider our florist designed and delivered arrangements as a more convenient alternative.
Sending to a funeral home? Our next day flowers by overnight courier arrive unarranged, and the specific time of delivery can not be guaranteed, so they are NOT recommended for deliveries to funeral homes. Please see our florist designed and locally delivered Funeral Flowers as a better alternative for wakes, funerals, and memorials.
Courier Information
Our couriers, including FedEX, DHL, and UPS, may leave a package without a signature if it is deemed a safe location, even if a signature was requested. However, they will generally NOT leave a package at an apartment without a signature. Deliveries to businesses and hospitals are normally accepted by the facility's reception desk or receiving area, not the individual recipient. Couriers normally can not telephone before a delivery. Changes to an order can normally be made prior to the shipping date, but may be subject to an address correction fee and at peak floral holiday periods may be required at least four business days prior to delivery.
Delivery Tracking
Once your order is processed and shipped, a tracking number will be available to check your delivery's status with the courier. You may receive this tracking number by email, in which case you can check your delivery yourself with the links below. Otherwise, just call us toll-free during business hours, and we'll be happy to help.
Frequently Asked Questions
How long should my flowers last? With the proper care, your flowers should last from 5-7 days, depending on the variety and the care they are given. Different varieties and colors of the floral products we offer do have varied longevity. For example, tulips and iris typically last 3-5 days.
Why do some of my flowers looked a little "soft" on arrival? Some flowers may become temporarily dehydrated during shipping. Once freshly cut and in water, they should revive overnight. If your flowers do not revivie within 24 hours, simply contact us for assistance.
Some of the rose petals look damaged. What should I do? Roses have lots of petals, so it's not harmful to gently remove a few. In fact, the smaller "guard" petals around the outside of a rose bud should be removed on arrival.
Why were thorns left on my roses? We do not fully strip our roses of thorns as it damages the stems and severely inhibits the vase life of the roses. Removing the thorns frequently causes lesions, which creates an 'air lock' in the stem and prevents water uptake.
I received a plastic pack with my flowers that had blue gel in it. What is it? This is an ice gel pack to help keep your flowers at the proper temperature during shipping. It can be re-frozen and re-used. This is NOT to be used as floral preservative in the vase.