Blending Blossoms
Choose Flowers to Complement Your Home
You can purchase individual types of flowers by the stem or packaged together in cellophane sleeves. Either way, choose the styles and colors that best fit your decor and taste to create your own one-of-a-kind arrangements.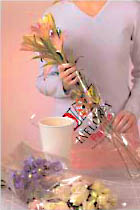 Preperation
Remove all wrappings from your flowers. Strip off any foliage that will be underwater so that it won't deteriorate. Cut off 1 to 2 inches from each stem underwater. Immediately place the stem in a vase of water with the appropriately measured amount of flower food.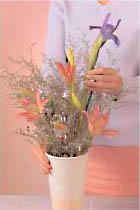 Arranging
Insert stems of foliage or filler flowers first. Add additional flowers from the outside in spacing them as if they were points on a triangle. Trim the stems of the flowers in the middle taller than those you place around the outside.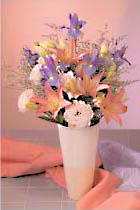 Maintainence
To keep your flowers looking their best, every few days, remove them from the vase. Wash it and refill with fresh water and additional flower food. Again, holding each stem underwater, cut off about an inch. Immediately place the flowers back in the vase. Keep your bouquet out of direct sunlight and drafts.
Reprinted by permission from Floral Retailing magazine.
---