Stylish Rose Designs
Vases inspire varied moods
You want to send someone roses-or arrange your own-but you don't want that "standard" dozen-roses look. A unique vase can be the inspiration for an original, distinctive design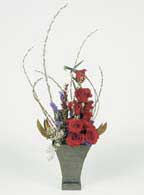 A metal container and unique plant materials-pussy willow, purple statice, seeded eucalyptus, red huckleberry, protea leaves and artfully tied lily grass-create an exceptional rose arrangement.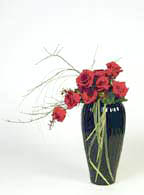 A tall black urn makes a statement with a cascade of lily grass and sprigs of sweet huckleberry extending up and out for balance above the roses.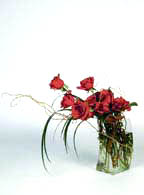 A curvy glass vase makes a sweeping gesture with bunches of lily grass arching beyond the roses, while curly willow acts as support and offers contrast.
Reprinted by permission from Floral Retailing magazine.