Fresh Cut Flowers In America
Where Do They come From?
Next time you glance at a bunch of flowers -- on someone's desk, at your local florist, or wherever -- ask yourself where they came from.
Just a generation ago, the answer probably would have been from one of a myriad of flower growers throughout the western and southern United States or perhaps from Holland.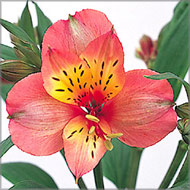 Asked to identify gifts and memorials that helped a great deal with grief, a majority of surveyed respondents named flowers and plants. Respondents also agreed strongly that looking at the cards to see who sent flowers is a comfort.
But, just as America's taste in flowers is shifting from traditional mums and carnations to more unique specialty blooms, so has their place of origin been changing in recent years
California is still America's top cut flower producer, with Florida second for flowers and foliages. But, despite their long history of quality fresh flower production, many domestic growers are struggling to keep up with foreign competition. In fact, foreign imports dominate today's flower market, in some cases accounting for 90% or more of all U.S. sales within a particular category.
That may be good news for consumers, because it means an increasingly plentiful supply of beautiful fresh flowers from around the world throughout the year. But, it's a challenge for domestic producers, many of whom are already facing higher energy, land, and labor costs than their offshore competitors.
Today, Colombia is the dominant producer of U.S. cut flowers, with roses, carnations, spray chrysanthemums and Alstroemeria among its top crops. Ecuador takes a close second. Both countries have exceptional climates for commercial growing, and both have successfully carved out their own niches in the most popular product segments. Ecuador's top crops include roses, Delphiniums, asters, Gypsophila (baby's breath), and mixed bouquets.
Together, Colombia and Ecuador accounted for roughly 90% of all roses, 98% of all carnations, and 95% of all chrysanthemums sold in the U.S. last year. And, they're not the only countries competing for America's love of flowers.