Hand-Tied Delight
Europe's favorite look is easy to achieve
You can create your own hand-tied arrangement by following these easy steps. Choose whichever flowers you prefer or follow the recipe below. Before you begin creating your bouquet, however, strip each stem of foliage. Otherwise, any leaves that are underwater in your vase can decay and cause bacteria to grow and clog the flower stems.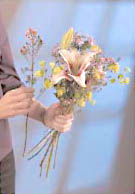 Criss-Cross
Use a crisscross motion to create your bouquet. Build the bouquet as follows: Begin with one stem of Stargazer lily. Then, add tow stems of phlox, one on each side of the lily. Next, add two stems of bupleurum between each stem of phlox. Then evenly add four stems of waxflower.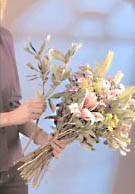 Evenly Spaced
As your bouquet grows, make sure to add each flower stem equal distances from each other around the outside of the bouquet. Add the following flowers in the same way you added the first: two stems of Stargazer lilies, four stems of bupleurum, four stems of lysimachia, three stems of phlox, four stems of waxflowers, three more stems of phlox and two stems of variegated pittosporum.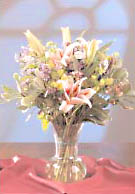 Tie It Up
Tie your bouquet together using a chenille stem, raffia or ribbon. Cut all the stems to the same length and simply drop into your vase. Add flower food as indicated on the flower-food packet. Every three to four days, remove the flowers, wash the vase and refill with fress water and flower food. Keep out of direct sunlight and drafts.
Reprinted by permission from Floral Retailing magazine.
---