Stylish Iris
Irises offer rich, intense color
Even if they aren't blooming in your garden, with a visit to your florist, you can keep them blooming in your home
Water & Food
Fill a vase with cool water. Add flower food as directed on the packet. Flower food helps your irises continue to flourish and slows bacterial growth, which clogs flower stems.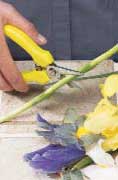 Cut Your Irises
Trim off the bottom half-inch or so of each stem using a pair of sharp floral scissors or a knife. A dull knife can crush the stems, keeping water from traveling to the blooms and causing them to wilt.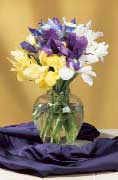 Iris Care
Keep your irises out of direct sunlight and drafts. Every two to three days, wash the vase with warm, soapy water. Refill it with fresh water and additional flower food. Recut each stem and place in vase.
Reprinted by permission from Floral Retailing magazine.
---