Radiant Roses
Nurture these natural symbols of perfection
Growers spend a lot of time developing new varieties and color, allowing you to choose from hundreds to suit nearly any occasion or decor.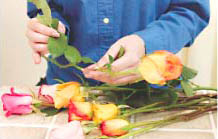 Prepare the Vase
Prepare a container with cool, bottled water if your tap water is softened. Softened water shortens rose life. Then:
Add floral food according to package directions.
Remove the leaves from the stem's lower half. Leaves decay underwater and cause stems to clog.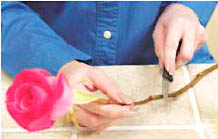 Prepare the Rose
Using a sharp knife or scissors, cut 1 inch off the bottom of one stem and put immediately in water. A rose stem is like a drinking straw; water will flow up the stem in 2 seconds. If you don't put the stem in water immediately, air will block the water from going up the stem. Continue cutting one stem at a time and put in water.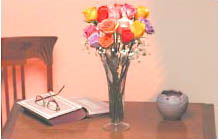 Care Instructions
If rose heads bend over, appear wilted, don't open or are out of water for more than two hours, repeat the above process, cover the arrangement with a plastic bag and leave in a cool place overnight. The next day, remove the bag. In general:
Keep your arrangement in a cool place, out of direct sunlight and away from heating or air-conditioning vents.
Every two to three days, empty the vase water, wash and perform the above steps again.
Reprinted by permission from Floral Retailing magazine.
---