Singular Statement
Grouping single types of flowers in one arrangement emphasizes each flower's
Create a holiday centerpiece using a simple, easy-to-follow design that groups different types of flowers to fashion a trendy parallel-style arrangement. Use the seven components here, or choose similar flowers of your own preference.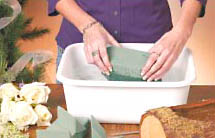 Floral Foam
Cut floral foam to fit within your container. Thoroughly wet the foam by setting it on top of a basin of water and allowing it to gradually absorb the water. Place the saturated foam in your container. Add a plastic liner if your container is not watertight.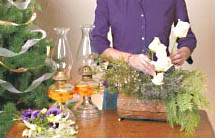 Evergreen
Begin by inserting draping stems of evergreen in one side of the container and waxflower and limonium low in the center. Insert five rose stems in stair-stepped height in the middle.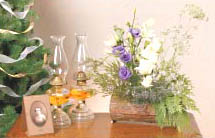 Holiday Flowers
Next, insert three stems of Queen Anne's lace at varying heights on one side. On the other, insert two stems of lilies, adding five shorter stems of lisianthus beneath. Add water with floral food as needed to ensure you arrangement stays fresh.
Reprinted by permission from Floral Retailing magazine.
---