Nontraditional Tulips
Now available year-round, tulips deserve a spotlight no matter what the season
Because they are now more readily available, tulips are growing in popularity for both winter holiday and Valentine's Day arrangements. Care for them properly to gain the longest vase life.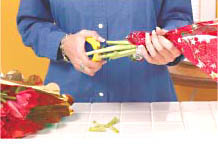 Tulips container
Fill a large container with water and flower food. Resist your first impulse to remove the plastic sleeves in which your tulips are encased. Leave them on and follow these steps to strengthen your tulip stems. While still sheathed in the plastic, trim off the bottom half-inch of each stem.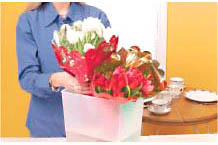 Water for Tulips
Place the bouquets--still in their sleeves--in cool, clean water. Let them sit for about four hours before taking them out and removing the plastic sleeve.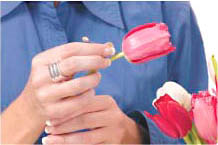 Tulip Care
If a few tulip heads droop, perk them up by poking a hole just beneath the flower head with a pin to allow air to escape and water to move up the stem. Remove damaged leaves and stems. Place in vase. For longest life, remove the flowers, wash the vase, recut the stems and add them to the vase with fress water and floral food.
Reprinted by permission from Floral Retailing magazine.
---