Valentine's Tips for the Romance Impaired
Winning Game Plans for Just Us Guys
Let's face it guys; some of us can be pretty "romance impaired." And, when it comes to shopping for gifts? Well, most of us probably rank that right up there with a trip to the dentist.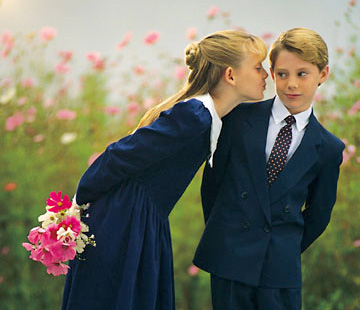 But, there's a Romeo inside each of us, just waiting to get out. And, Valentine's is our chance to shine. We can melt hearts, even in freezing winter weather. All it takes is a little planning and a phone call or two.
February 14. It's the big game. The Super Bowl of love. You can be a hero if you remember. Forget it, and you could be left out in the cold. So, open your calendar and circle the date. Now, here are a couple of sure-fire strategies that would make even Cupid proud.
The traditional game plan will be to go for a Game Day Touchdown. Send flowers, candy, a card, or more, for delivery on Valentine's Day. This strategy can be especially effective for gifts to the workplace, where they can be enjoyed by the recipient -- and envied by others -- during the workweek. But, half the guys in America will have the same brilliant idea. So, play it safe, order the week before. And, remember, there will be a lot of Valentine's gift deliveries that day - some in the morning and others in the afternoon. So, a thoughtful phone call, e-card, or romantic email message in the morning is definitely a great idea, too.
Another strategy is the pre-game Romance Blitz. Send her a card a few days early. Treat her to a romantic dinner that night. Place candies on her pillow the second evening. Then, surprise her with flowers the day before Valentine's, so they will be enjoyed more throughout Valentine's Day. The first card might say "I Couldn't Wait Till Valentine's To Say I Love You," or "I Can't Think of Anyone I'd Rather Spend Valentine's Week With Than You." Eat your heart out, Cupid!
You don't have to spend a lot. A little creativity and thoughtfulness goes a long way. But, don't wait. Call your florist, make that reservation, or pick up that special gift today. Because, Valentine's only comes once a year.
And, you don't want to miss it.