Valentine's Flower Trends
New Rose Colors and Other Romantic Options
When you think of Valentine's Flowers, you think of red roses, right? Not so fast. More than a third of rose sales at Valentine's are other colors, including assorted Spring hues. In fact, 62 percent of women surveyed prefer shades such as yellow, pink, peach and white. Unconventional color picks, such as lavender, orange, and bi-color roses, are also emerging as favorites. Today, there are close to 120 different rose varieties available - up from just a few dozen choices found in flower shops in the 1980s - with hundreds of luscious color variations.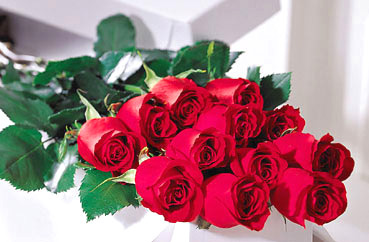 These new rose varieties have not only expanded the color palette but have also enhanced characteristics such as bloom size, shape, stem length, and in some cases fragrance. For example, the new reds range from shades of bright raspberry to majestic scarlet to velvety-dark red or orange-kissed hues. Pinks now include traditional bridal pinks, hot pinks, peaches, apricots, and corals.
There are roses in crisp lemon, buttery hues, golden yellows, and trendy two-tones. If you've never given flowers to a man before, consider a bold yellow. It's one of the most popular colors cited by men. And, there are wonderful shades of white, too. The trend toward neutral schemes for home environments makes an arrangement of lush white or cream roses the perfect gift. Choose from ultra white, ivory, or champagne lineages. They're as lovely for weddings and romantic settings as they are easy complements to elegant home decors.
"Roses are like fine wines, a delight to be savored and cultivated," says trend-tracker Denise Lee. "Like an expanding wine cellar - florists' coolers are now stocked with more choices worth learning about." After all, variety is the spice of life.
Do new rose colors bring new meanings? According to Lee, rose meanings have largely become a thing of the past. "In the early 1900s rose colors did signify specific meanings. But today, there are too many colors to keep track," says Lee. "It's the sentiment that gives the gift its meaning."
And, there's another trend in Valentine flowers. Nearly half of all cut flower sales at Valentine's aren't roses at all; they're mixed fresh arrangements, lilies, tulips, irises, and a host of other fresh favorites. According to Don Phillip, of Phillip's Flowers, "Roses are still the favorite flower of love, but guys are becoming much more tuned into other romantic options."
"Popular looks this year include airy arrangements of bright Spring flowers and single-flower statements, such as a mass of tulips in a clean, contemporary vase," said Phillip. "For richer textures, consider compact clusters of flowers such as sweetheart roses, open garden roses, hyacinths, hydrangea, freesias, or other fancy blooms in a variety of colors." Looking for a little more romance? "Turn on the heat," suggests Phillip, "with an infusion of reds from amber to scarlet to bright red." Also popular this season are shades of pinks -- from soft pastels to hot magentas -- and the more subtle earthy floral tones of lilac, purple and plum.
Whatever the color scheme, varieties, or budget, fresh flowers always express a thoughtful message of love and remain one of the favorite gifts for Valentine's Day or any romantic occasion.