Flowers & Plants in the Workplace
Improving Productivity and Morale
Flowers and Plants Linked to Improved Workplace Productivity
According to business experts, the key to gaining the competitive edge in the modern economy is easy to understand - a happy, productive workforce. And, while sometimes the easiest notions can be the most difficult to achieve, a recent scientific study conducted at Texas A&M University finds that nature can hold the secret to business success. The research demonstrates that workers' idea generation, creative performance and problem solving skills improve substantially in workplace environments that include flowers and plants.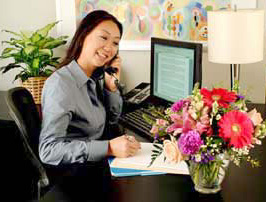 "Our research shows that a change as simple as adding flowers and plants can be important in the most meaningful way to businesses in the modern economy," said Dr. Roger Ulrich, lead researcher on the project. "People's productivity, in the form of innovation and creative problem solving, improved - which in certain circumstances could mean the difference between mild and great business success."
Research Findings
In an eight-month study, the Texas A&M University research team explored the link between flowers and plants and workplace productivity. Participants performed creative problem solving tasks in a variety of common office environments, or conditions. The conditions included a workplace with flowers and plants, a setting with sculpture and an environment with no decorative embellishments.
During the study, both women and men demonstrated more innovative thinking, generating more ideas and original solutions to problems in the office environment that included flowers and plants. In these surroundings, men who participated in the study generated 15% more ideas. And, while males generated a greater abundance of ideas, females generated more creative, flexible solutions to problems when flowers and plants were present.
"We know the importance of learning, for example, how natural surroundings affect drivers, school children, and hospital patients," said Ulrich, who has conducted extensive research on the effects of environments on psychological well-being, stress and health. "To businesses, it should be equally as important to understand what features can improve performance at work and make employees more productive."
Background
The Impact of Flowers and Plants on Workplace Productivity Study was conducted over eight months by Roger Ulrich, Ph.D., Behavioral Scientist, Director of the Center for Health Systems and Design, Texas A&M University in College Station, Texas. His interests concern applications of environment-behavior knowledge to healthcare buildings, landscape architecture and urban design. The research lends weight to growing scientific evidence that flowers and plants, as well as other aspects of nature, have a beneficial impact on state of mind and emotions. The Society of American Florists worked in cooperation with the Texas A&M University research team, bringing its expertise of flowers and plants to the project.
Source: https://www.aboutflowers.com