| | | | |
| --- | --- | --- | --- |
| | | | |
Flower Trends - Plum Infusion
Traditional and always favored, the tones of lilac, purple and plum exude a modern twist. These colors, defined by richness, become even more sophisticated juxtaposed with brown. The subtleties and nuances read in brown's quiet presence. Rich silk pillows, brown fur throws and tone-on-tone motifs create a quiet and royal aesthetic.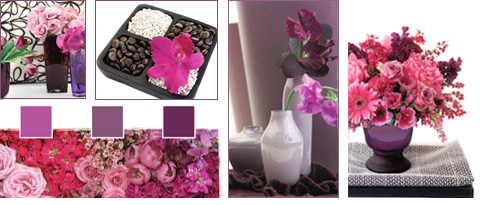 Mother Nature loves these colors, and that is obvious in the abundance of flowers that grow in them. Orchids in all varieties set the tone here. 'Blue Curiosa,' 'Delilah,' 'Cool Water' and 'Mystery' varieties of purple roses provide range in color, with 'Mystery' roses even sporting a brownish cast. Stocks reign supreme for this color harmony, with a full range of jewel-toned colors. Gerberas, Lilies, Waxflowers, Callas, Gladioli, Delphiniums and varieties too vast to mention all suit this look.
Rose Hip Hydroponic Gatherings Infusion Baccara Caramel Plum Moody Blue Profusion
Reprinted by permission from California Cut Flower Commission.
---
© 1995-2017 All America-Phillip'sFlowers Shops, America's Online Florist
Images © 1995-2017 FTD, Teleflora, Phillip's Flowers, SAF, CCFC, Eyewire, or PhotoDisc