Flower Trends - Infusion
Begin with a color foundation to live with. Black and white is warmed by brown to create a neutral background for infusions of color. Black and white floral prints are waiting to be painted in with fresh flower colors.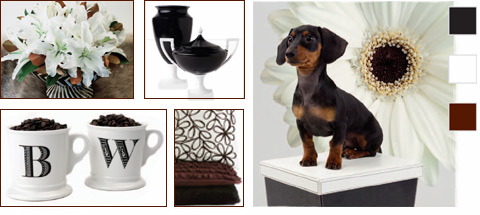 In a world where color is celebrated by the media, with television programs, shelves of interior magazines and celebrity designers, it has captured the public's imagination. It is no longer a trade secret that a quick infusion of color can more than change your surroundings; it can change your mood and your sense of well being.
Rose Hip Hydroponic Gatherings Infusion Baccara Caramel Plum Moody Blue Profusion
Reprinted by permission from California Cut Flower Commission.
---
© 1995-2017 All America-Phillip'sFlowers Shops, America's Online Florist
Images © 1995-2017 FTD, Teleflora, Phillip's Flowers, SAF, CCFC, Eyewire, or PhotoDisc