Great Mother's Day Gift Ideas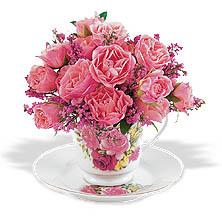 For all the work Mom does throughout the year, she deserves to be pampered for Mother's Day. Here are some fun ideas to make her feel extra special during Mother's Day week, courtesy of Phillip's 1-800-FLORALS and the Society of American Florists:
Combine a floral gift with a keepsake gift. Phillip's 1-800-FLORALS or your local florist can suggest thoughtful extras that are perfect with Mother's Day flowers, such as crystal vases, collectibles, scented candles, chocolates, potpourri, gift baskets, and more.
If you're planning on taking Mom out to eat, give your local florist a set of silverware and a napkin before Mother's Day. Ask that the items be included in an arrangement with a note inviting Mom to her favorite restaurant.
For a personalized touch, take a special framed family photo to your local florist in advance to be delivered with your floral gift. Or, give your florist several small laminated photos to be attached with colorful ribbons to your bouquet.
If your Mom is planning to attend worship on Mother's Day, find out what she plans to wear and ask your florist to design a special corsage to match. For a very special twist, choose a new dress or hat for Mom and deliver it personally with your matching corsage.
Give Mom something to relax with by sending a good book with a note that reads "Mother's Day is your day to relax!" Then, follow it up with flowers.
Ask your local florist to help you create a special spa kit. A few days ahead of time, bring goodies like nail polish, a loofa sponge, bath crystals, oils and other pampering items to your florist and have him design a basket with the spa items on one side and flowers on the other. You could even add a certificate for a manicure, pedicure, massage or spa treatments at a local day spa or salon.
Personalize a floral gift around a theme or hobby. Is Mom an avid gardener? Ask Phillip's to create a planter for the porch or patio. If Mom is a nature lover, how about a natural, outdoorsy arrangement with tiny birds or butterflies as accents ? For an athlete, tennis balls or golf balls can be a whimsical addition to any floral arrangement. If she loves clothes or jewelry, tie a scarf or drape a necklace around a vase of flowers.
Want to get the kids involved? Visit your local flower shop and pick out several pretty stems of flowers. Ask the florist to put them in water tubes. Add a note to each flower and hide them around the house with your children. Then, tell Mom she's on a treasure hunt, and give her clues as to where she can find each of the flowers. At the end of the hunt, have an empty vase ready with a card telling Mom what a treasure she is to you.
Send flowers with a note telling Mom she's getting a kitchen break. Then, let her sit back and relax while you prepare the dinner sometime soon.
Breakfast in bed is a treat that every Mom loves. Dads and kids can prepare a special morning for Mom by greeting her with a homemade breakfast in bed, on a tray adorned with her favorite blooms.
For a very personal atribute, write Mom a note telling her why you're thankful for her and attach it to a long stemmed rose.
Present Mom with a vase of her favorite flowers. On several stems tie a "coupon" for a chore or project that you promise to do.
Surprise Mom with a variety of small gifts throughout the week. For example, send her a rose bud vase on the Monday before Mother's Day, a box of chocolates or blooming plant on Wednesday, and a gorgeous vased bouquet on Friday.
Better yet, send her three, six or twelves months of flowers, with the first bouquet delivered Mother's Day week and a note explaining that additional deliveries will automatically arrive in future months.
Most importantly, whether you're planning something local or sending a gift across the country, look to a professional florist for the help and expertise you need to remind Mom just how special she is. Remember to order early, too. For additional information, call 1-800-356-7257 (1-800-FLORALS) or shop online at Phillip's 1-800-FLORALS flower shop.